This past week was April Break for the kids. One of my friends booked a room at Great Wolf Lodge in Pennsylvania for her daughters birthday present. She has 2 kids and her daughter wanted to bring her best friend. My friends husband couldn't get the time off from work and neither could her cousin so she asked me if I could get the time off and bring my two kids. That way her youngest daughter would have someone to ride the water slides with. She said she already paid for the room and 6 passes are included so I would just have to pay the $50.00 per night extra for the 7th person. I was like sure! I was able to get the time off of work.
I don't know if you have ever priced these places, I have, and a suite on a week when the kids are off from school can easily run $600.00  a night. Then you have to pay for the extra things there are to do there. My friend had purchased a package for each of the kids she was bringing called a Wolf pass. I bought these for my children when we arrived. It was $60.00 each and it included a cup of candy, a game of mini golf, a game of bowling,$5.00 to the arcade,  a free ice cream, the mirror maze, and a wand and quest package. At check in each kid gets a pair of wolf ears.  I thought they were adorable, my son thought they were not cool. I still made them all put the ears on so I can take a picture. ( I will not post if cause he was embarrassed)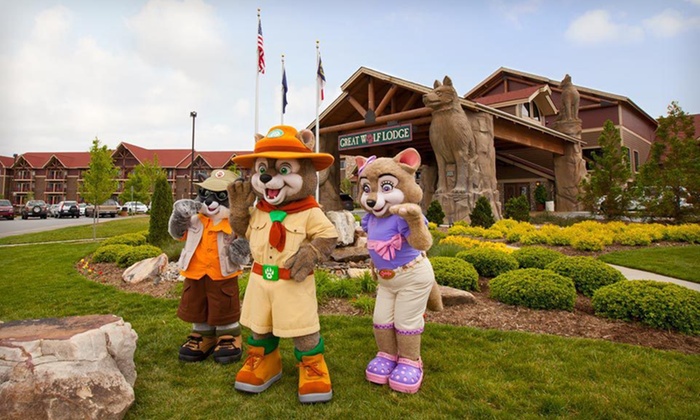 My friend booked the kids club house suite. It has a little "cabin" with a bunk bed, a twin bed and a TV. One bathroom. A little microwave and mini fridge and sink area for snacks. A little table to sit and eat, a queen bed, pull out sofa bed, fire place and balcony. The room was bigger than I thought it would be! We got there early and you can check in early and go to the water park till your room is ready. So that's what we did.
The kids took off once we were in the water park and my friend and I took turns buying a drink at the bar and then bringing our stuff up to the room. I was really surprised by how much there is to do in the water park. There's a 4 foot deep pool with basketball hoops, a lazy river, a wave pool, a little kids section and a big wet like obstacle course type play thing to climb on. Plus, lots of water slides. In the water park there is a bar and a place to get food. I order 3 chicken finger meals and it came to like $35.00. Not too bad for a water park, I thought.
After the kids were done playing we went to the room, let them snack while everyone showered and then headed down to the arcade. The arcade is pretty cool too. There was a lot to do to win tickets and a lot of cool prizes. Then we headed over to get our wands and start our quests.
The quests are pretty cool. There are 4 hallways and you run around and wave your wand at things to complete the quest clues. The kids were all about it for the first night. For dinner, I bought 2 large pizza's and some waters and it came to around $52.00. We went back to the room to eat and then the kids asked if they could go do more quests. We said sure, so they took off and completed a few more quests and my friend and I got to chill for a little bit. Then we took a couple kids to the nightly dance party they had. It was alright.
When you check in they give you a list of all the activities they have for the kids through out the day. There's a bubble party, a story time, some nights have a movie and then there is usually a dance party. The kids danced for a few minutes but then they got tired and we went back to the room. I was tired too!
Hibernation time is from 10 PM till 8 or 9:00 AM. That's when everyone is supposed to be quiet. I went to bed around 10:00 and the kids stayed up in their little club house. My daughter slept with me on the pull out and my son slept in a sleeping bag on the floor. He wanted to sleep in the sleeping bag. Otherwise, I would have shared a bed with my friend and my kids could have shared the pull out. The pull out was not terrible. I was able to sleep on it.
The next day we had breakfast in the room ( we made bacon in the microwave and we brought cereal). Then we headed to the arcade to finish playing ( we added $10.00 to the cards) and collect our prizes. Then we went back to the room to change and head to the water park. Now, I am going to tell you a secret.
We lost a child at this point. And not one of our own, the one that was the birthday girls best friend. What happen was I took 3 kids with me to go start changing for the water park and my friend was staying with the other 2 kids so they could get their prizes at the arcade. Right after we left the birthday girls best friend decided she wanted to come with us. Since we just left, my friend was like "Sure." Well, while we were walking down the hallway to the elevator I never saw the best friend. We got to the room and the kids started to change and then my friend came in and said "Where's BGBF?" (Birthday girl best friend) and I was like with you! And she said that BGBF had left to come with us. And I said I never saw her. Then she said "Stop playing with me." And then we freaked the fuck out. I ran down to the Arcade, I ran up and down halls, I ran through the parking lot, I checked the bathrooms. I thought maybe she had followed someone who looked like me. I don't even know. I went back to the room and my friend was about to head down to have BGBF paged and she walked in the door crying. She had run up the stairs, got to the room, changed and went to the water park and we totally missed each other. Yes, the elevators are slooooowwwww…. Usually, you are supposed to have a parent with you to get into the water park, but if you tell them your parents are already in there, they believe you and let you in. So BGBF sat in the wave pool for 20 minutes waiting to find us and then gave up and went back to the room. That was nuts.
After we found each other, we all went to the water park and I floated in the lazy river for a half hour and then read my book club book. We went back to the room, showered and headed down to play mini bowling, mini golf and collect the cups of candy, we went to dinner at the buffet. The buffet is BLAND. The kids barely ate anything except the pasta. It was $148.00 for 5 kids and 2 adults. Plus I added a 18% tip. After we ate at the buffet I was really tired. Like super tired. We went back to the room, let the kids go down to the mirror maze and to get ice cream and we just chilled.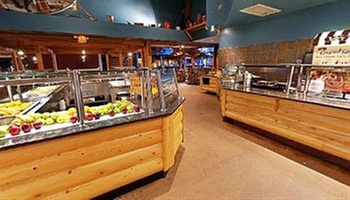 I think two nights was plenty to spend there. I was tired coming home and being that Easter was a few days away, I felt unprepared and started to get anxious thinking about it since I didn't get anything yet.
I would try another indoor water park. I have heard good things of Kalahari and I would like to try that next year. The kids had a blast. I mean they thought it was really cool. In May, Great Wolf has an outdoor ropes course and after memorial day, they have an outdoor water area too.
My daughter says the water park was the most amazing part and she would go back in the summer.
My son said it was awesome and her would love to go back.
I would go back if I was able to find a Groupon or discount. $600.00 a night is really expensive to me especially when you are paying for food and other things while you are there.
If I go with my friend again we decided we will get a 2 bedroom and split it, which might be cheaper. What are your experiences? Have you gone to an indoor water park, what did you think? Will you go back?