Hey Everyone! I haven't been able to really come up with anything good to write lately. I have a few idea for later in the week. It just feels like everyday is the same. We have zero outdoor plans besides house and yard work, and I've already written about that.
The kids are home schooling and have 4 weeks left. My husband and I are both lucky enough to be able to work from home. Both our jobs are in no rush to get people back in the office because we actually are able to operate just fine with everyone working from home. We're settling in and have a little routine going now. I have started to learn better balance and am now not answering work emails outside of a normal work day. That was a little overwhelming for me at first. Also, taking breaks helps too.
We have decided that we are not sending the kids to camp this year. One, they cancelled the town camp. Two, I heard the camp that we usually send them to is already filled since they lowered the amount of kids they can take. Three, and my main reason is, there is a new terrible thing happening to some kids that get Covid-19 and we are just not comfortable sending them if we don't have to. We don't have to. IF our jobs start cycling people into the office over the summer, they still need to maintain the 6 foot rule and it's really not possible in either of our jobs to have everyone in at the same time. So we'll just figure it out when we get to that bridge.
I haven't heard anything about school next year. A few things floating around about less hours, smaller classes, really just ideas people are throwing out at the moment and nothing decided on yet. I don't expect to hear anything really until August.
The state is going to start opening a few things on 5/20/2020. Like the beaches, a couple parks and a few businesses. Half capacity they say, I hope people listen. I would love to start walking at the beach this year. My daughter and I have started walking at the cemetery my Dad is buried in. It's really a beautiful cemetery, but also a little weird when my daughter is reading all the headstones as we pass. There are usually a couple other people walking there too, but far enough away.
I'm still getting Instacart delivered once a week from the grocery store but I did go shopping at Stew Leonard's for the first time in a month and a half today. My friend was joking about PTSD after that woman fainted in front of me, but that is really why I don't want to go back yet. I am still nervous to go back to Shoprite. Plus, honestly everything still feels so weird. The lines, the masks and gloves and sanitizer. I get it and I'll follow the rules, but it's just so unnatural to me still. I'll get used to it, baby steps. So I'll continue the Instacart deliveries from there for a little while longer.
This morning was alright. I choose to start here because this store is basically a one way store already and it feels like the layout isn't that much different. People were for the most part keeping distance and waiting. Except a few people who just walked back and forth and got really close to other people. Some people really are assholes and only seem to think of themselves. I felt comfortable enough that I will go back next week.
And that's pretty much it for us. The weather is getting nicer, the trees are filing in, it's spring in Connecticut. I hope you are safe and well and I am really looking forward to summer.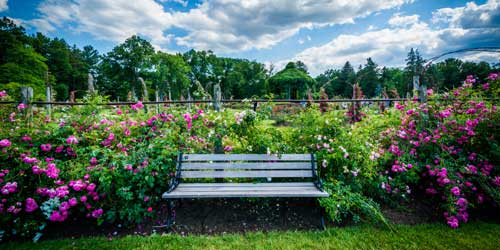 How about you? How are you doing?